.
2019 is almost here! The CSB team wants to help you make 2019 the year that you delight in God's Word.
According to the 2018 State of the Bible survey from Barna and the American Bible Society, more than half of all American adults want to read the Bible more.
God's Word is "living and effective"—when we read the Bible, our hearts, our lives, and our relationships are transformed. But how do we go from wishing for more time in God's Word to actually reading God's Word more? Here are 4 suggestions for reading the Bible more in 2019:
1. Set a Time and Place
With our other priorities, we know we need to make a plan for them to happen—but sometimes it's easy to skip that step for Bible reading. Planning a specific time helps to make reading the Bible a regular habit, and so does finding a comfortable, quiet spot with your Bible, your pens or highlighters, and some good lighting.
2. Put Scripture Where You'll See It
During some seasons of life, long quiet times just aren't realistic. And even if you do have time to regular devotions, we can all benefit from little reminders of truth. Tape index cards with verses to your bathroom mirror or your kitchen cabinets, or find a desktop or phone background with a verse you want to memorize.
3. Pick a Reading Plan

What kind of reading plan is best? The one you're going to finish. If you get behind, it's okay, just pick up where you left off. Or just do five minutes for the first month of the year and pray, "Lord, make this a delight to me."  
If you read through the Bible in a year last year, try slowing down and focusing on one book for several months. Or experience the Bible in chronological order with the CSB Day-By-Day Chronological Bible, designed to help you see how the stories of the Bible fit together into a single grand narrative of God's redemptive plan.
4. Find Your People
Does sticking to a plan sound intimidating? Have you tried it before and failed? People can make an impossible plan possible. Grab a couple friends and committing to a plan together.

Resources to Get You Started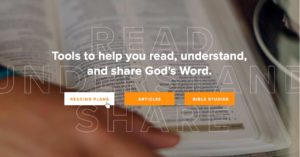 CSBible.com/ReadTheBible is full of free Bible-reading resources and 90-Day, 1-Year,  3-Year, or Chronological Reading Plans. Choose yours today!
The new CSB Day by Day Chronological Bible features a clear narrative approach to the Bible, arranging the complete text into a chronological reading plan with daily readings guided by Dr. George Guthrie. Learn more or order your copy today.