Can you believe it's already been 5 times around the sun for the CSB? What started 5 years ago has turned into a growing community full of faithful Bible readers and people who look to encourage others in their faith. Consistent Bible engagement has been our focus from the start, so it's no surprise that over the last 5 years we've looked for fresh ways to encourage everyone to open the pages of Scripture. With that in mind, here's a look at the top 5 Bibles from our first 5 years!

This visually immersive Bible lets you explore the places where so much of God's redemptive story took place–without ever leaving your home.
These beautiful Bibles don't have any special features or themes–they just simply exist as a long-lasting, durable, well-made Bible that you'll cherish forever.
Have you ever wondered what it would be like to have Dr. Tony Evans assist you in your study of the Bible? Well you don't have to wonder with this study Bible and commentary, edited by Dr. Evans and informed by his sermons, writings, and teachings.
In partnership with She Reads Truth, this Bible aims to get "women in the Word of God every day." Full of beautiful designs, thought-provoking articles, and more, this Bible is a must have.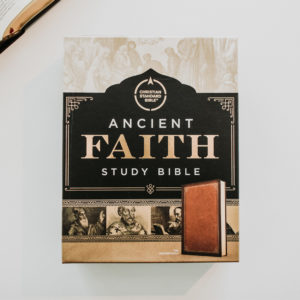 5. The
CSB Ancient Faith Study Bible
–Winner of the ECPA Christian Book Medallion of Excellence Award!
With the CSB Ancient Faith Study Bible, your Bible reading experience is enriched by studying alongside giants of the faith. Their writings and thoughts help explain key passages of Scripture and guide you to a deeper and richer understanding of God's Word.